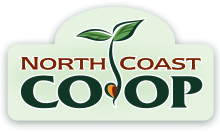 Strategic Plan
Our intentions for the next five years.
Where do we want the Co-op to be in the next five, ten, fifteen years? Do we want to have more locations? What kind of employer do we want to be? What will our priorities be in environmental responsibility?
In many organizations, answering these questions is something that happens in a room with top leadership. As a co-op, we ask these questions of our membership first.
We create 5-year strategic plans for North Coast Co-op. Rather than a top-down plan reflecting the vision of one person or a small group, we seek input from the Board of Directors, the management team, the employees and the member-owners at large. Within each of our goal areas, we have specific strategies to help us meet our goals.
The Co-op's membership adopted the 2020-2024 Strategic Plan at the 2018 Annual Membership Meeting & Celebration. Work on the plan will begin in March, 2019, the beginning of the Co-op's next fiscal year.
Read the adopted 2020-2024 Strategic Plan
The Co-op is still completing work on its last Strategic Plan. The following are the Strategic Plan Goals for 2014-2018:
Develop our Local Foodshed: Collaborate in sustainable, local, and regional food system development that addresses gaps in food production, storage and/or distribution.
We are committed to expanding food production, building capacity for producers, and filling gaps in our regional food distribution system. For more than thirty years the Co-op has provided economic development assistance to local producers, extended a purchasing hand to start-ups; assisting with marketing, supply agreements, merchandising, packaging, pricing, and more. This has become such an ingrained part of what we do that it's often taken for granted. As opportunities develop, the Co-op will continue to help local producers, projects, and visions get off the ground with an eye toward food security and a triple bottom line (people, profit, and planet).
Invest in Our Future: Strengthen our leadership position in the community by investing in opportunities that significantly serve our members to ensure a viable co-op for our future.
It is important that we diversify what we do, and develop multiple income streams to build our resilience in the face of changing market conditions. We need to both secure our position and also prepare for new competition in the marketplace, to remain an influential leader and top retailer in our community.
We will continue to improve our facilities, but also be alert to growth opportunities in secondary operations which expand our core grocery business and align with our mission. This may take us to new communities in our region, or different avenues for distributing products enabling more people to be served by our cooperative.
Educate and Advocate: Engage our members to make positive changes around essential local and national issues which affect our community's future, and advance our mission, principles and cooperative values.
Since its inception, the Co-op has been a leader in the community where local and national issues are concerned. Education and advocacy have been a key component of our work. Social movements can be the most important force in bringing about significant, positive change.
It is necessary to define specific areas of education and advocacy that will strategically guide board and employee investment of time and resources, and effectively focus our efforts to advance our mission and principles.
Enhance the Co-op Experience: Foster and develop talent, leadership, engagement and passion, creating an inspiring environment at our Co-op.
We recognize our employees are integral to our members' experience. It's important for our organization to be focused on not only generating revenue, but on continuing to improve our work environment, creating a culture that inspires passionate interest and meaning in people's lives. Good leadership ensures the success of operations, and success depends on building a cooperative culture where employees embrace the cooperative principles and thrive within our workplace. Good leaders accept their team members for who they are, yet also are committed to help them learn. Our success as a cooperative means we are bringing out the best in people at every level of the organization.
Promote Environmental Responsibility: Continue to improve the environmental practices in our day-to-day operations.
There is no future if we are not committed to reducing our carbon footprint and leading by example. The Co-op already has a strong track record of environmentally friendly choices in our daily operations. By demonstrating and sharing our results, our members will know they are participating in a store that is continuing to improve its environmental practices and encouraging shoppers who wish to do so as well.
We commit to develop organizational standards for innovative sustainable business practices across the supply chain. We will develop a 20-year Statement of Sustainability, and pledge to improve accessibility and to promote alternative forms of transportation. Transportation accounts for more than 36% of the state's greenhouse gas emissions, the largest of any sector.
"The strategies to reduce emissions from this sector include reducing the carbon intensity of fuels, reducing the emissions from passenger vehicles and goods movement, and improving land use and transportation systems to provide for more efficient and healthier communities which reduce congestion, travel times and encourage biking, walking, and transit." CA Climate Adaptation Strategy for Energy and Transportation