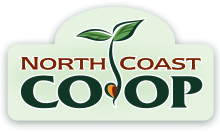 Strategic Plan
Our intentions for the next five years.
Where do we want the Co-op to be in the next five, ten, fifteen years? Do we want to have more locations? What kind of employer do we want to be? What will our priorities be in environmental responsibility?
North Coast Co-op is a member-owned organization guided by the cooperative principles. As a leader in our community we emphasize a diverse selection of products, while engaging members through consumer education, community building and environmental responsibility.
The purpose of the strategic plan is to provide guidance for maintaining North Coast Co-op's success for the next five years as we move toward our 50th anniversary. The strategic plan outlines six long-range goals that provide broad direction for management, enabling flexibility and creativity in implementation.
The following are the Strategic Plan Goals for 2021-2025:
Community Hub
Diversity, Equity, and Inclusion
Environmental Responsibility
Cooperative Economy
Local Food Economy
Financial Viability
Read the full 2021-2025 Strategic Plan: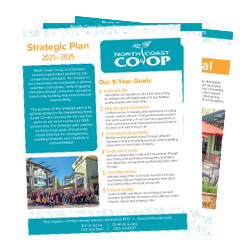 Click here to read the Strategic Plan Final Report for 2014 -2018.