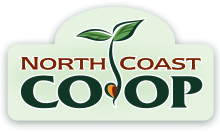 Produce
Farm fresh in every season!
We work closely with local farmers to ensure the largest selection of fresh, local produce year-round. We also have a diverse product line, including rare varieties of fruits and vegetables. Our dedicated and knowledgeable staff are passionate about food and take great care when displaying it in our stores—their food art is truly a work of beauty!
---
Learn about our local farmers:

Neukom Family Farm produces a variety of veggies and fruits like tomatoes, beans, melons, asian pears, peaches, and other stone fruits to the Co-op and community.
Learn more

The Co-op has purchased cut flowers and some produce from Flora Organica since the early 80s.
Learn more

One of the oldest farms in Humboldt County, Clendenen's rolls out batches and boxes of their famous apples every fall.
Learn more

Wild Rose Farm in Blue Lake, California provides the Co-op with year-round crops like cilantro, beets, and even quinoa.
Learn more

John Severn and his crew endure the varying conditions of each northern California season to provide the Co-op with nutritious greens and salad mixes year round.
Learn more

An interview with Ed from Earthly Edibles, located in Korbel, Humboldt County
Learn more