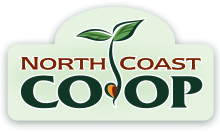 Membership
We'd love for you to join!
A cooperative is a business owned by its members. As locally-owned businesses, co-ops are committed to the people they serve and the communities in which they live. Members have a voice in what is sold to them, as well as in the overall organization of their co-op. Members get the most buying power for their money and the money stays in the community, contributing to its strength.
As a member, you also belong to an organization that strives to sustain the environment, the economy and the community.
Membership in North Coast Co-op has many benefits. Learn more on our Membership Benefits page.
Rights and responsibilities are a unique aspect of belonging to a cooperative. We invite all members to familiarize themselves with how our co-op is run by reviewing our Articles of Incorporation and bylaws. Find these documents on our bylaws page.
Members are also encouraged to attend Board of Directors meetings, participate on committees that shape our business and voice opinions and concerns regarding food, policy, community and more. Learn more about the Board of Directors on our Board of Directors page and about committees on our Committee Structure page.
Members sustain our business and make it possible for us to do great things in our community. Visit our Good Stuff We Do page to learn more. Learn about investing in North Coast Co-op on our Investing in Community page.
If this sounds like something you would like to be a part of, we would love for you to join! Learn how on our Become a Member page.