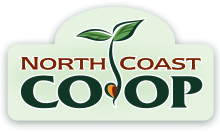 Apply for a Grant
Since 1990, North Coast Co-op has been awarding Cooperative Community Fund grants to tax-exempt, local organizations for projects and programs that serve our community.
No applications are being accepted for 2019 while we take the opportunity to review the granting process. This page will be updated once the review process is complete. Thank you for your patience.
There are three project focus areas that the Cooperative Community Fund funds:
Sustainable Agriculture

Food Nutrition and Education

Food Security (defined as the state of having reliable access to a sufficient quantity of affordable, nutritious food)
Reporting & Feedback
Organizations who received grants are asked to complete the Reporting Form and return within the year following their award. The form provides our Gifting Committee, which is made up of Co-op members, with feedback and allows them to understand how the funds were used and the impact of the project to the community. You can find the Cooperative Community Fund logo here.