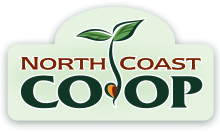 Locations & Hours
Open daily, 7am–9pm!
Both stores are open from 7am – 9pm, seven days a week. To ensure that our employees can enjoy the holidays with their family and friends, we are closed Thanksgiving Day and Christmas Day, and close at 7pm on Christmas Eve.
Getting to the Co-op
Walk - Our Arcata store is located one block off the plaza city center and our Eureka store is located a few short blocks from old town city center.
Bike - We have bike parking at both stores and a bike pump available at Customer Service should you need it. Additionally, a bike kit is available at the Arcata store that includes a lock, pump, tire levers and patch kit.
Click here to view or download our Shop by Bike Guide
Take the Bus - Redwood Transit System's (RTS) Southbound "Mainline Route" that runs along the Highway 101 corridor from Trinidad to Scotia stops at 4th and B streets in Eureka, right in front of the Co-op! RTS stops at 6th and H streets in Arcata, just two short blocks from our store.
Drive - While we encourage shoppers to use human-powered or public transportation to our stores, we realize that it is not always possible. If you need to drive, we have a private parking lot at each of our stores, as well as on-street parking.