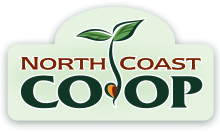 Cooperative Community Fund
Supporting our local community
The Cooperative Community Fund is a permanent endowment established and directed by members of North Coast Co-op, which awards grants to support projects and the work of community organizations in Humboldt County. Through collaborative grant making, the Cooperative Community Fund seeks to strengthen the community by emphasizing projects and activities that promote sustainable agriculture, food nutrition and education, and food security.
The Cooperative Community Fund has granted more than $500,000 in funds to community projects since it was founded in 1990. Past grant recipients include Food for People, Healy Senior Center, LatinoNet, Dream Quest and the Boys & Girls Club of the Redwoods.
There are many ways to donate to the Fund:

Paper Bag Charge - In 2011, North Coast Co-op began charging 10 cents each for paper bags as part of our campaign to reduce single-use bags. We have never carried plastic bags at the register, but we thought we could be doing more to encourage the use of reusable bags. We were successful! We reduced paper bag consumption by 80 percent! In addition, we donate every 10-cent charge to our Cooperative Community Fund.

Member Giving - Members can support the Cooperative Community Fund by electing to donate their patronage refunds or share dividends. Members also have the opportunity to donate the value of their shares if they need to close their membership for any reason.

Direct Donation - Make a tax-deductible donation direct to the Cooperative Community Fund online through the Humboldt Area Foundation.
To learn more about applying for a grant, visit our Apply for a Grant page.