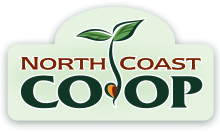 Investing in the Co-op
By joining North Coast Co-op, you are contributing to an organization that promotes and supports the sustainable development of our community, including local agriculture, food producers and other local products.
While becoming a member is only a one-time membership share investment of $25, we encourage further investment. Member investments allow us to operate without relying on a bank for loans, make improvements to our facilities, fulfill our mission and meet the objectives of our Strategic Plan.
There are three investment levels:

Class A Membership Shares—To join North Coast Co-op, you must purchase a $25 Class A Share. This makes you a voting member and eligible for membership benefits.

Class B Sustaining Shares—Additional investment in shares are made in B-Shares. B-Shares are sold in $10 increments and members become Fair Share members by investing $300 in Class B-Shares.

​Class C Co-op Shares—Co-op Share members are eligible to invest in dividend-earning Class C Shares, also sold in $10 increments. Dividend rates are set by the Board of Directors. Individual membership investments in Class C Shares are limited to $50,000. Read our Frequently Asked Questions for more information.
Members may withdraw their membership and receive the full amount of their share investment minus a $5 processing fee, in accordance with North Coast Co-op Bylaws and withdrawal policy. The Co-op has up to 12 months to repurchase shares from members.
We hope you will consider becoming a Fair Share member! When you are ready to invest, visit Customer Service at either store or contact our Membership Coordinator at (707) 443-6027 x 434.