Grocery
Supporting local quality since 1973.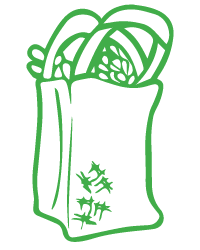 We offer an extensive selection of organic and high quality products carefully chosen to meet the needs of our diverse membership. This includes thousands of gluten-free items; dozens of organic and probiotic dairy products (and, dairy alternatives); and many options for flours, grains, seeds, snacks, teas and spices.
Plus, find frozen foods, raw foods, pet food, beer brewing supplies, cleaning supplies and bulk items. We place an emphasis on local products whenever possible and have long-supported food entrepreneurs in our county.
Learn about our local producers:

Kate Brown discusses her ghee making process in Trinidad and her working connections with other local producers.
Learn more