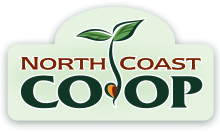 The following article was submitted by a local Co-op community member and has not been edited for content. The views expressed within do not necessarily reflect those of North Coast Co-op. If you would like to contribute an article to Co-op News, please email co-opnews@northcoast.coop for more information.
---
By Colin Fiske, Coalition for Responsible Transportation Priorities
Transportation accounts for the majority of Humboldt County's greenhouse gas emissions, and most transportation emissions come from personal vehicles. Co-op members know that we're in an escalating climate crisis, which is one reason it's so important to use low-carbon modes of transportation whenever possible. It also helps the Co-op live up to its longstanding commitment to environmental sustainability. And depending on where you live, it may be easier than you think to get to the Co-op without a car. Here are a few of the options.
Walk
The oldest form of transportation is still the cleanest and greenest, and it has huge health benefits. If you live close enough to either the Eureka or Arcata Co-op, try walking. For smaller shopping trips, you can just throw on a backpack to carry your groceries home. If you're feeling ambitious, you can figure out lots of other creative ways to carry or pull your groceries too, and get extra exercise in the process. But walking to the grocery store doesn't need to be hard! You can meander at your own pace with a partner or friend or your kids and make a fun excursion of it.
Roll
Bike, scooter, skateboard, wheelchair—use the one that fits your situation, and roll on down to the Co-op! Often, wheeled devices can extend your active transportation range quite a bit, especially when you add a small motor as with an e-bike or e-scooter. Like walking, these modes of transportation have near-zero carbon emissions, and most of them also give you great exercise, even at a slow pace. Bikes also have the ability to add baskets, saddlebags, or even trailers that make carrying your groceries home that much easier.
Take the Bus
The Redwood Transit System and Eureka Transit System have bus stops right at the Eureka Co-op, and the Arcata & Mad River Transit System goes within a few blocks of the Arcata Co-op. If you live close enough to a stop, the bus can be an efficient, affordable, and enjoyable way to get to your favorite grocery store. And riding the bus produces a fraction of the emissions of driving a car. Check out the article by HTA for more information.
Route Planning Resources
Many of the most popular mapping and route planning apps offer the option to plan a walking, biking or public transit trip instead of driving. If you're wondering how to quickly or safely get to the Co-op (or anywhere else) without a car, try out a few of these trip planners and see which one you like best. The Humboldt Transit Authority also has a trip planner on their website and a partnership with the Transit app to help you plan your bus trip. Or you can join the Coalition for Responsible Transportation Priorities—we're always happy to help people figure out how to drive less.
Remember, you don't have to commit to never take the car to the grocery store. But if you start trying out other options, you may find you like low-carbon transportation more than you expect. And you can get a stamp on the Co-op's new Alternative Transportation Stamp Card, which adds up to money saved on your groceries—in addition the money you saved on gas to get there!