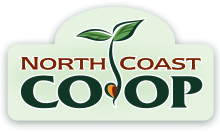 Cooperative Community Fund
Co-op Grants $22,470 to Ten Local Community Organizations
The Co-op's Cooperative Community Fund (CCF) is a permanent endowment established and directed by members of North Coast Co-op, which awards grants to support the work of community organizations in Humboldt County. The Cooperative Community Fund seeks to strengthen the community by emphasizing projects and activities that promote sustainable agriculture, food nutrition and education, and food security. Over $500,000 in funds have been awarded to community projects since 1990.
The Co-op received 25 grant applications requesting $500-$3,000 earlier this year. A committee composed of four Co-op members volunteered to review, score and recommend which projects to fund. In May, the Co-op awarded $22,470 to the following ten organizations.
Centro del Pueblo – Know Your Rights Education
English Express Empowered – Building Inclusion and Equity Through Language Learning
Equity Arcata – Home Away from Home
Northcoast Environmental Center – Coastal Cleanup
Nations Finest at Bayview Heights – Life Training 101
Humboldt Area Center for Harm Reduction – The Center's Food Support
Healy Senior Center of Southern Humboldt – Southern Humboldt Meals on Wheels
Eureka Bike Kitchen – Bikes for All
HC Black Music and Arts Association – Ongoing Youth and Family Services
Dream Quest Willow Creek Youth Partnership – Garden to Teen
The Co-op is able to continuously give to the community from CCF because we continually work to grow the fund. Each year as the fund grows, and especially in years where interest is earned on our investments through the Humboldt Area Foundation, we are able to give more.
There are several ways to donate and help grow the Co-ops Cooperative Community Fund:
Member Giving - Members can support the Cooperative Community Fund by electing to donate their patronage refunds or share dividends. Members also have the opportunity to donate the value of their shares if they need to close their membership for any reason.
Direct Donation - Make a tax-deductible donation direct to the Cooperative Community Fund online through the Humboldt Area Foundation.
Paper Bag Charge - In 2011, North Coast Co-op began charging 10-cents each for paper bags as part of our campaign to reduce single-use bags. We reduced paper bag consumption by 80 percent, and we donate every 10-cent charge to the Cooperative Community Fund.
Edit: The original amount stated in article was $25,470, which included a $3,000 portion for a donation to North Coast Co-op's Pumpkin Patch, which pays for the pumpkins given away to every student attendee. The new total reflect the amount given excluding the Pumpkin Patch donation.