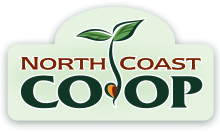 Notice
: Undefined offset: 11 in
/var/www/vhosts/northcoast.coop/htdocs/co-op_news/posts.php
on line
140
Notice
: Undefined offset: 11 in
/var/www/vhosts/northcoast.coop/htdocs/co-op_news/posts.php
on line
143
What a wild ride the last two years have been! Working at the Co-op has been a bit like a trip on a roller coaster—fun, exhilarating, full of twists and turns and a little stomach dropping at times. There have been so many changes at the Co-op in just my short time here – changes in the stores and the surrounding communities, to the Co-op board, and to the staff. There have been celebrations, financial challenges, comings and goings of members new and old and plenty of spirited discussions.

Life is taking me on a new ride in a different part of northern California. I'll be close enough to visit and shop now and then, but much too far to commute, and so I am leaving my position as Marketing & Membership Director for the Co-op. Members remain in good hands and can contact Membership Coordinator Margaret Sataua with any questions they have about their membership. There are exciting things happening in the coming year and the Co-op's members can look forward to new ways of becoming a bigger part of the co-op community.

It has been an absolute pleasure working on behalf of the membership and with the staff of the Co-op. I am, without a doubt, a better person for it and I owe you all a debt of gratitude for the experience. I wish nothing but the best for the Co-op and look forward to being a member for many years to come.
Notice
: Undefined offset: 1 in
/var/www/vhosts/northcoast.coop/htdocs/co-op_news/posts.php
on line
244
Notice
: Undefined offset: 1 in
/var/www/vhosts/northcoast.coop/htdocs/co-op_news/posts.php
on line
244
Notice
: Undefined offset: 1 in
/var/www/vhosts/northcoast.coop/htdocs/co-op_news/posts.php
on line
244