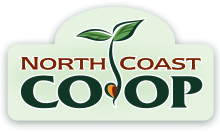 Community Connections - Going Greener
On November 15, we celebrated the City of Arcata's 2nd Annual Zero-Waste Day at our Arcata store location. November 15 is Zero-Waste Day, which is nationally recognized as "America Recycles Day" but because recycling isn't always ideal and is only a small piece of a larger puzzle, Zero-Waste Day seems more fitting for celebration and education!

The Co-op celebrated by handing out free bamboo forks, engaging kids in a fun composting challenge and sharing the durable options available when visiting our Co-op (and beyond!) SCRAP Humboldt joined in on the fun by giving new life to fun tins and bags and handing them out to shoppers with the challenge to reuse instead of choose single-use.

As the buzz around the term zero waste grows and #zerowaste hashtags are seen across social media, remember that the term zero waste is used to describe the goal and effort to move to zero waste and not an expectation for perfection! Please never feel excluded if your pantry isn't streamlined with identical glass food jars. Here at the Co-op we welcome small steps and encourage you to use what you already have as many times as it works! We see many shoppers reusing the same few plastic produce bags every day- taking them home to rinse and reuse on their next Co-op trip!
California Senate and Assembly Bills Impact Co-op
Work done at the state level through Assembly and Senate Bills directly affect our Co-op. Here's how:

Senate Bill 1383, the Short-lived Climate Pollutants Act, signed in 2016, works to meet targets for organic waste reduction and the recovery of edible food. Luckily, the Co-op already has long-standing edible food recovery and donation systems in place. We value feeding our community good organic food whenever possible and SB 1383 only strengthens how important and reciprocal our community ties are with our local food banks. Our local food banks collect and quickly redistribute any food that doesn't sell swiftly enough to keep in our Co-op.

It started with Assembly Bill 1826 signed in 2016, the Mandatory Organics Recycling Act. While this act served to reduce landfill-bound organics, it did not address food waste of edible foods, which is why Senate Bill 1383 shortly followed. I shared in the fall edition of Co-op News how the Co-op follows the Food Recovery Hierarchy to get the best possible use of food at ALL its stages. For us, that means that edible foods not suited for sale are donated to Food for People. Any food that is not fresh enough for people seldom ends up going to a landfill. Instead, it is routed to one of two places. First, a local farmer picks up directly from our store and uses the scrap as feed for animals. Second, any remaining food is picked up by our composting partner The Local Worm Guy. He uses the remaining inedible food, coffee grounds, egg shells, and produce trimmings to turn it into a nutrient-dense soil amendment by vermicomposting (worms do the work)!

The system works. The Co-op records monthly donations of 3,500lbs of fresh, organic edible foods. An additional 900 gallons of scrap is composted monthly.