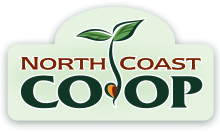 The following article was submitted by a local Co-op community member and has not been edited for content. The views expressed within do not necessarily reflect those of North Coast Co-op. If you would like to contribute an article to Co-op News, please email co-opnews@northcoast.coop for more information.
---
Zero Waste Shoppers Choose to Reuse
By Maggie Gainer, Zero Waste Humboldt
Life Cycle Assessment research and carbon footprint analyses consistently confirm old-fashioned common sense: Reuse of materials is much better for the environment than Recycling. Reuse methods and habits come in many forms: returnable beverage bottles, packing boxes and pallet-sharing among businesses, refilling your water bottles at refill stations, and the B.Y.O. Bring-Your-Own habits encouraged at the North Coast Co-op. Zero Waste Humboldt is happy to celebrate with the Co-op "Re-Opening With Reuse." Here are a four basic BYO Reuse habits that will significantly reduce how much waste you generate – especially plastics:
BAGS Increasing numbers of shoppers have made the switch to reusable shopping bags. I like the kind that can fold up into your pocket or purse. Great for take-out at restaurants, even clothing and nonfood purchases. It takes a while to remember them. At night, put your shopping bags by the front door, so when you head to the car, you will remember to take them and always have a supply in my car.
PRODUCE BAGS If you're a person that keeps carrots, celery, cucumbers, etc. all separate, then just remember to start keeping your plastic bags for them inside your shopping bags in the car. Use the same ones over and over. Lightweight cloth bags are even better.
CONTAINERS There's no need to buy grains, cereal, dried fruit, nuts, pasta, etc. etc. in boxes and plastic wrapping. Take your reusable Tupperware or yogurt containers with you in the shopping bags. This will become an easy and comfortable habit for shopping. They stack well in your shopping bags and when you bring them back to your kitchen, pour the contents into your pretty glass jars. Bonus: No ants and food stays fresher than in boxes and plastic.
RETURNABLE BOTTLES Buy your milk, kombucha, shampoo-- any liquids you can find in returnable bottles. This will dramatically reduce the waste you generate. A quick rinse and put in your shopping bag in the car to return the next time you shop.
Everyday shoppers can be Climate Activist Zero Waste Warriors by adopting these easy habits. For more shopping pointers, contact zerowastehumboldt@gmail.com.