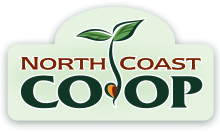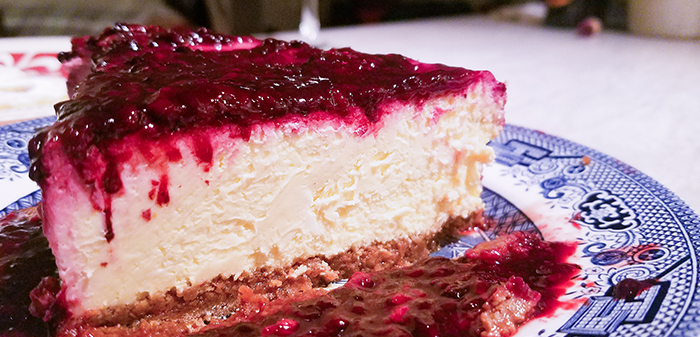 This recipe comes straight from one of our Cheesemongers, Veronica! Make sure you check out our Cheesecake episode of Cheese the Day, the North Coast Co-Op Podcast!
SERVES: 6
Ingredients
2 cups gingersnap crumbs (Torn Ranch snappy ginger cookies)
6 tablespoons melted butter, plus a little extra to butter your spring form pan
¼ cup sugar (a bit less if you are using the Torn Ranch ginger cookies)
Pinch of salt
2 (8oz) packages of cream cheese
1 (11oz) log of Cypress Grove Purple Haze chevre! (internal squeal of delight)
10 oz sour cream
4 eggs
1 cup sugar
2 teaspoons vanilla extract
2 cups fresh or frozen blackberries (yes, I insist on Blackberries. Blackberries and lavender are wonderful together)
1 cup brown sugar
½ lemon, juiced
1 teaspoon vanilla extract
1 teaspoon cornstarch
A splash of Brandy
Directions
Preheat the oven to 350 degrees F. Set baking rack to the middle of the oven

Smash the cookies into crumbs (Torn Ranch snappy ginger cookies are some tough cookies). mix all your ingredients for the ginger crust in a large bowl or food processor. Butter the whole inside of your springform pan. Press crumb mixture into the bottom of the pan.

Beat (room temperature) cream cheese and goat cheese together in your stand mixer using the paddle attachment. Mix until light and fluffy. Add sour cream and beat to combine. Add in eggs, 1 at a time. Mix for about 5 seconds in between each added egg. Beat in sugar and vanilla until just combined.

Pour the filling into your prepared springform pan. Put on a baking sheet in your preheated oven. Bake for 55 to 60 minutes. Rotate the sheet halfway through for even baking.

Remove cheesecake from the oven and let cool completely. You could serve some now,… but it is better if you let the cake set and chill in the fridge for a few hours or better yet overnight.
Blackberry Compote:
Combine brown sugar and blackberries in a saucepan over medium heat. Mix cornstarch into the lemon juice until dissolved in a small bowl, and then add to the berries in the saucepan. Stirring gently bring to a simmer. Add in Brandy and vanilla and simmer a bit more until you reach a nice saucy consistency. You can always add more Brandy if the compote is too thick. Let cool before pouring over your chilled cheesecake.
Recipe Notes
Recipes you might like:
Lemon Melon Popsicles with Mint & Cucumber
Cypress Grove Chèvre with Cacao Nibs