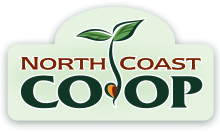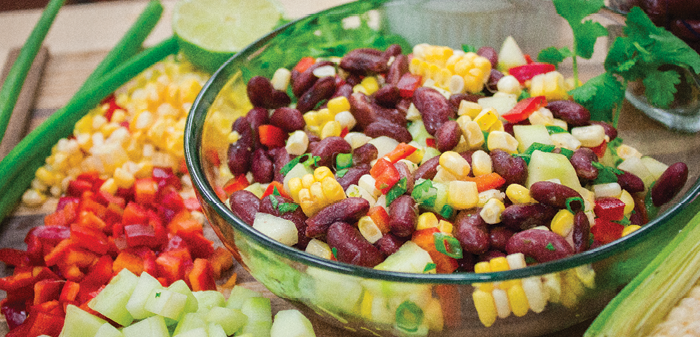 Kidney beans are reddish brown legumes named after their kidney shape. This wholesome and nutritious bean is used to make chili, soups and rice dishes as well as delicious salads. Kidney beans are not typically found fresh but are available dried in bulk and in cans. They contain important minerals such as iron, magnesium, manganese, phosphorus, copper, molybdenum, and vitamins A, B1, C and folate. They are also high in fiber, protein and are naturally low in sodium.
Dried kidney beans can be stored in an airtight container in a cool, dry and dark place, where they will keep for up to 12 months. Cooked kidney beans will keep fresh in the refrigerator for about three days if placed in a covered container.
SERVES: 4
Ingredients
1 ½ cups cooked kidney beans
1 cup fresh corn, the kernels from one large ear of corn
1 cucumber, diced
1 red pepper, diced
3 green onions, thinly sliced (white and green parts)
4 Tablespoons fresh cilantro, roughly chopped
Zest from 2 limes
3 Tablespoons fresh lime juice (1 ½ - 2 limes)
2 Tablespoons olive oil
1 Tablespoon apple cider vinegar
¼ teaspoon salt, or to taste
¼ teaspoon black pepper, or to taste
Directions
Before rinsing the beans in a strainer, check for and remove stones and damaged beans by spreading them out on a light colored plate or cooking surface.

To shorten their cooking time and make them easier to digest, kidney beans should be presoaked. There are two basic methods for presoaking. For each, start by placing the beans in a saucepan with two to three cups of water per cup of beans. The first method is to boil the beans for two minutes, remove pan from heat, cover and allow to stand for two hours. The alternative method is to simply soak the beans in water for eight hours or overnight, placing the pan in the refrigerator, so the beans will not ferment.

Before cooking the beans, regardless of presoaking method, drain the soaking liquid and rinse the beans with water. Add enough fresh water to cover the beans by one extra inch. Bring to a boil, reduce heat to a simmer and cook until they are fork tender. Kidney beans generally take about 1-1 ½ hours to become tender. For this recipe, use ¼ pound of dried beans (about ½ cup of beans), which yields 1½ cups of cooked beans.

Put all of the salad ingredients into a medium size bowl and toss together.

In a separate bowl, whisk all of the dressing ingredients together and then slowly add to the salad bowl contents. Toss everything together until combined. Serve immediately or keep in the refrigerator until serving.
Recipes you might like:
Fiesta Farro Salad with Pinto Beans
Summer Black-Eyed Pea Salad