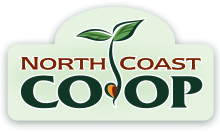 Composting Service
Currently only available at our Arcata store location.
Members can purchase the $20.00 stamp card worth six (6) drop offs to be used as needed at the Arcata store Customer Service. Drop offs must be made using our designated 3.5 gallon bucket, which are available for a one-time purchase of $9.00. The program is self-service and available to members seven days a week from 7am to 7pm.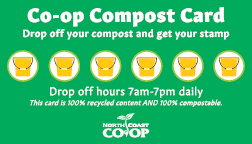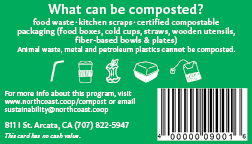 What Compost Materials Are Accepted?
So, what can be composted? We are happy to compost food waste (kitchen scraps), certified compostable packaging such food boxes, cold cups, straws, wooden utensils, fiber-based bowls and plates, and unbleached paper towels. As our compost needs to be free of all contaminates for it to be added to our composter, we cannot accept any e-waste, personal hygiene products, metal or any petroleum plastics.
Acceptable
Food waste & scraps
Napkins
Natural plant fiber-based material
Compostable packaging:

Paper products
Post-consumer compost
Co-op cold drink cups
Coffee cups
Drink lids & sleeves
Compostable straws
Wooden utensils
Fiber-based utensils
BioPlus Co+op food box (Deli paper to-go box)
Fiber-based bowls & plates
Not Accepted
Plastic packaging & containers
Plastic packdown boxes
Gloves
Twist ties (metal or plastic)
Metal
For more information, please email sustainability@northcoast.coop.