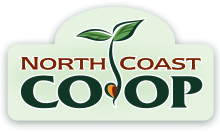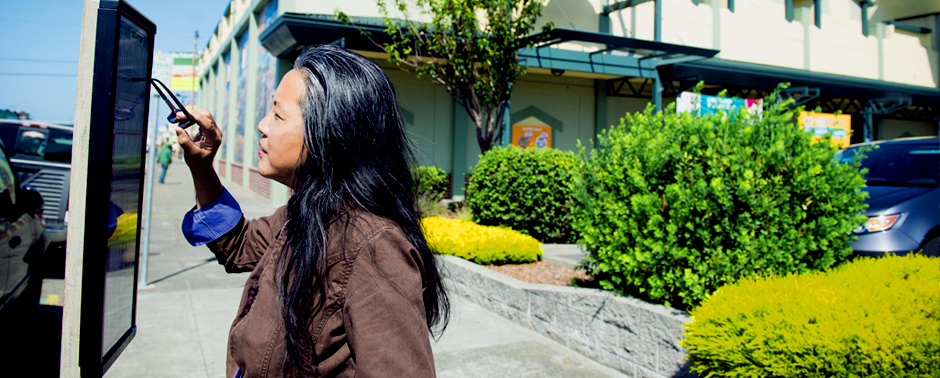 Ride the Bus, Ride the "C"s
By Ali O. Lee*
August 1, 2015--The French writer Gustave Flaubert may not have been talking about taking the bus when he wrote about how we see differently when we travel to a new perspective: "Travel makes one modest. You see what a tiny place you occupy in the world." This change in perspective often occurs when taking public transit, when we are shoulder to shoulder with our neighbors.
We see ourselves in the context of community when we share space and time, however temporary—when we ride from stop to stop. What is more, taking public transit is convenient, cheap, carbon-saving, and in the slang of today's youth, taking the bus is "chill." It's totally co-op.
It's Convenient
Taking the bus to the North Coast Co-op is more convenient than ever before. The Humboldt Transit Authority just added a North Coast Co-op bus stop at the corner of 4th and B streets, in Eureka. Both the inter-city bus (going between cities) that is the Redwood Transit System (RTS), and the inner-city bus (staying within the city limits) that is the Eureka Transit System (ETS) now stop at the Co-op located at 25 4th Street.
It's Cheap
Locally, the best deals to be had can be found on local transportation systems. When you take the Redwood Transit System (RTS) along Highway 101, you can travel from Trinidad to Scotia, for $1.90, one-way, if you purchase a $10.00 bus card that works like a short-term debit card.
Seniors, students, and people with disabilities can ride for reduced prices and negotiated deals with Humboldt State University (HSU) and, maybe soon, with College of the Redwoods. In other words, using the first rate above, for the price of a cup of coffee, you can travel about 50 miles along the Highway 101 Corridor—which works out to about 26 cents, per mile. HSU students can ride for free to both the Arcata and Eureka Co-op locations using their JackPasses.
It's Carbon-saving
Try using the free Carbon Savings Calculator. Also try The Denver Post's simple Car versus Bus Calculator. Just plug-in your commute distance in miles, your car's miles per gallon (MPG), your current cost of gas per gallon, monthly parking costs, and your monthly bus usage cost and it will calculate how much you can save by using the bus.
It's Chill
When you ride the bus, and leave the responsibilities of driving a vehicle, you exchange driving time for free time. You could listen to music or a book on your mobile device. You could surf the Internet using the bus's free WiFi. You could type on your laptop, read the newspaper, or make your to-do list. You could organize your receipts, review flashcards, knit that scarf, and delete those photographs of your ex-lover from your cell phone.
When you ride the bus, you could also do nothing but observe how the inland hills change color in the light and are graced by light dustings of snow in winter, how Samoa Bridge disappears in the fog year round, how the cows are all laying down in the fields simultaneously. You could wonder why that old barn hasn't fallen over.
You could imagine what the bay would look like without billboards and with a trail alongside it full of cyclists, and pedestrians, kids in strollers, and hikers from the Pacific Crest Trail with curly walking sticks. You could read the graffiti: "Speak the Truth even though your voice shakes." You could witness the new bus stop in front of the Co-op on Fourth Street in Eureka. You could wonder why more people don't take the bus.
It's Community
When taking the bus, you get a chance to meet your community. You may sit next to your neighbor who fixes and sells bikes on Old Arcata Road. You may walk the mile to and from the bus stop and more easily reach your health or diabetes management goal to walk 10,000 steps a day. You may wait at the bus stop with the manager of the local print shop or the 35-year employee of the Job Market. You may overhear student reviews of their English teachers. You may pick-up a free newspaper and read about the new nonprofit Zero Waste Humboldt. You may volunteer some change for the person who is short six cents for the fare box or discuss philosophy with somebody with a sixth sense. You may ponder why you have not yet met your first love or you may meet your next love at the next stop. You may read Flaubert. You may plan a trip to France.
It's Co-op
Riding the bus is in line with many of the North Coast Co-op values. When you take the bus, you are going local, voting for a diversity of routes, building community, and being environmentally responsible. You may even gain a new perspective by taking the bus this summer. You may even find yourself.
All is possible, as you can see, on the bus.
_________________________
*Ali O. Lee is the multi-modal (bus, walk, car, bike) Author of HumBus: The Local Guide to Public Transit (2015) to be published this summer by the Area 1 Agency on Aging with a grant from the Redwood Coast Music Festival Foundation.
Eureka Bus Routes
The secret is out. According to the RTS website, "RTS provides more than 400,000 passenger-trips per year." Generally, car versus bus calculators will show distinct value in taking the bus when you factor in the costs of car insurance, car maintenance, parking, fluctuating fuel prices, and wear and tear on your automobile. Check-out Go Triangle's free, on-line calculator here.
RTS's Southbound "Mainline Route" that runs along the Highway 101 corridor from Trinidad to Scotia, now stops at 4th and B streets. Look for the sign.
RTS's Northbound "Mainline Route" that runs along the Highway 101 corridor from Scotia to Trinidad continues to stop at 5th and D streets where there is a covered bus stop with bike racks.
ETS runs within Eureka city limits, with loop systems, and has three routes that stop at or near North Coast Co-op during its loop through the downtown and old town neighborhoods:
On weekdays, the Red Route stops at 4th and D streets.
On weekdays, the Yellow Route stops at 6th and C streets.
On weekends, the Rainbow route stops at 4th and B streets.
Contact RTS at (707) 443-0826 or find more information and route-planning. For ETS riders, you can call the same number (707) 443-0826, or visit their website.
Article originally appeared in the August 2015 Co-op News, a free publication of North Coast Co-op .