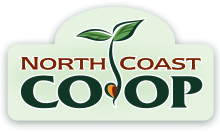 As I write this, it is the first day of rolling out our new signature sandwiches, juice bar and beverage menus at our Eureka location. It also happens to be record-breaking heat for our area—85 degrees! The new food programs are part of the work we have been doing at our Eureka location to improve our freshly-prepared offerings. Over the last year, we have turned what used to be our Community Kitchen (cooking classes) into a production kitchen for the Deli. We added an extensive self-serve food bar and expanded the footprint of the Deli. This has allowed us to produce more and better menu items.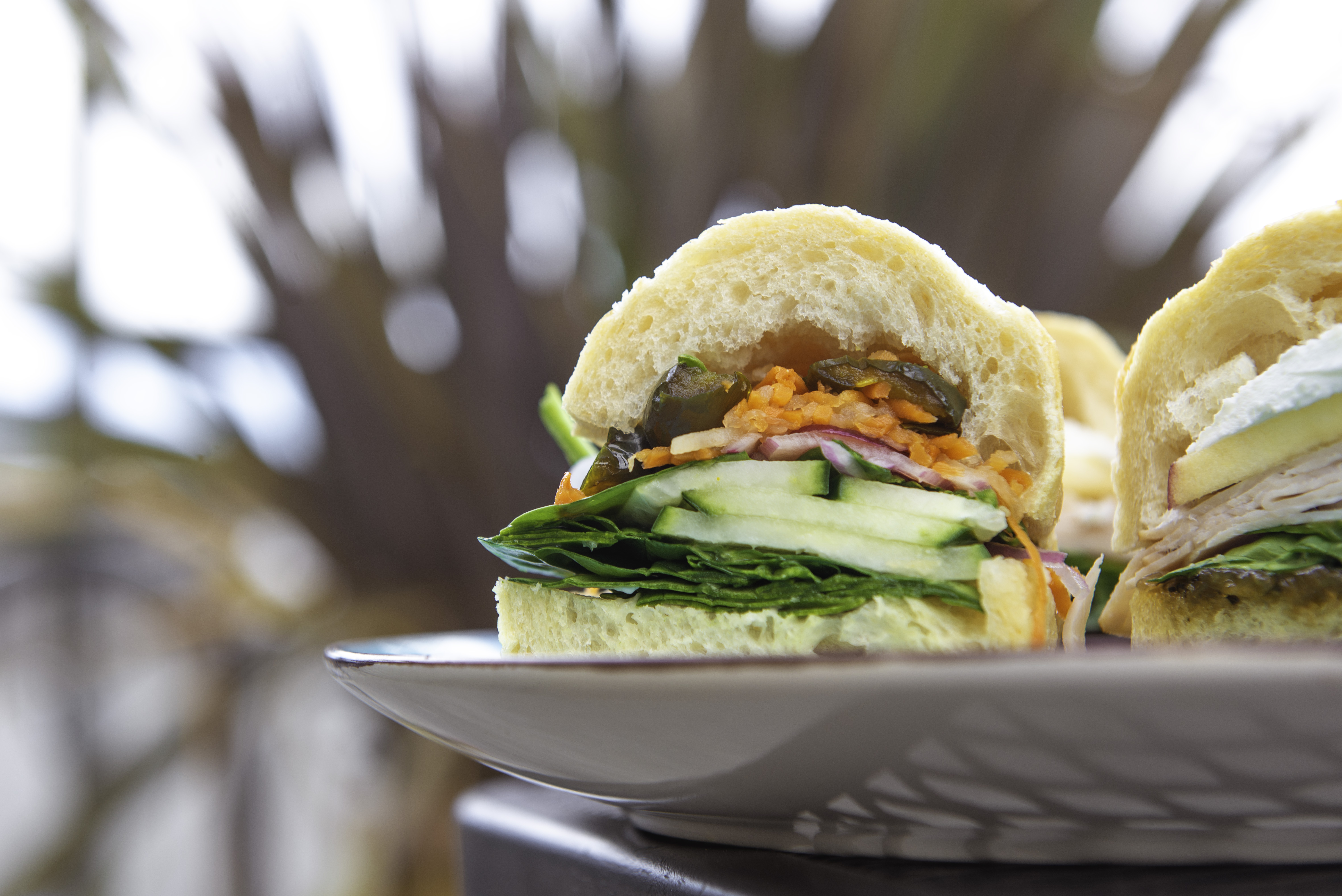 I'm especially excited about the Picante Pickle Patch sandwich (pickled carrot, daikon radish, candied jalapeños, spinach, tomato, and red onion on a Brio ladybug roll) and the Affogato (espresso poured over vanilla ice cream). Almost everything is organic and local when possible, with options for vegan, gluten-free and more. We work hard to accommodate dietary needs and label everything.
We've also been working on other areas of the Eureka store. We made room for more dining tables and chairs, inside and out, and purchased tables that are more appropriate for indoor seating. We replaced the bark in the landscaping, thanks to John Shelter and the New Directions crew! You'll notice new aisle signs to help navigate the store. Our Wellness Department is bringing in new, lower priced lines of protein shakes, probiotics and more, with an emphasis on B Corps certified companies. Certified B Corporations are businesses that meet the highest standards of verified social and environmental performance, public transparency, and legal accountability to balance profit and purpose. As we move into summer, you'll see other changes to make shopping a bit more intuitive and affordable. At some point before the rainy season starts, the landlord will be replacing the windows in the atrium area to finally address the many leaks that spring up in winter.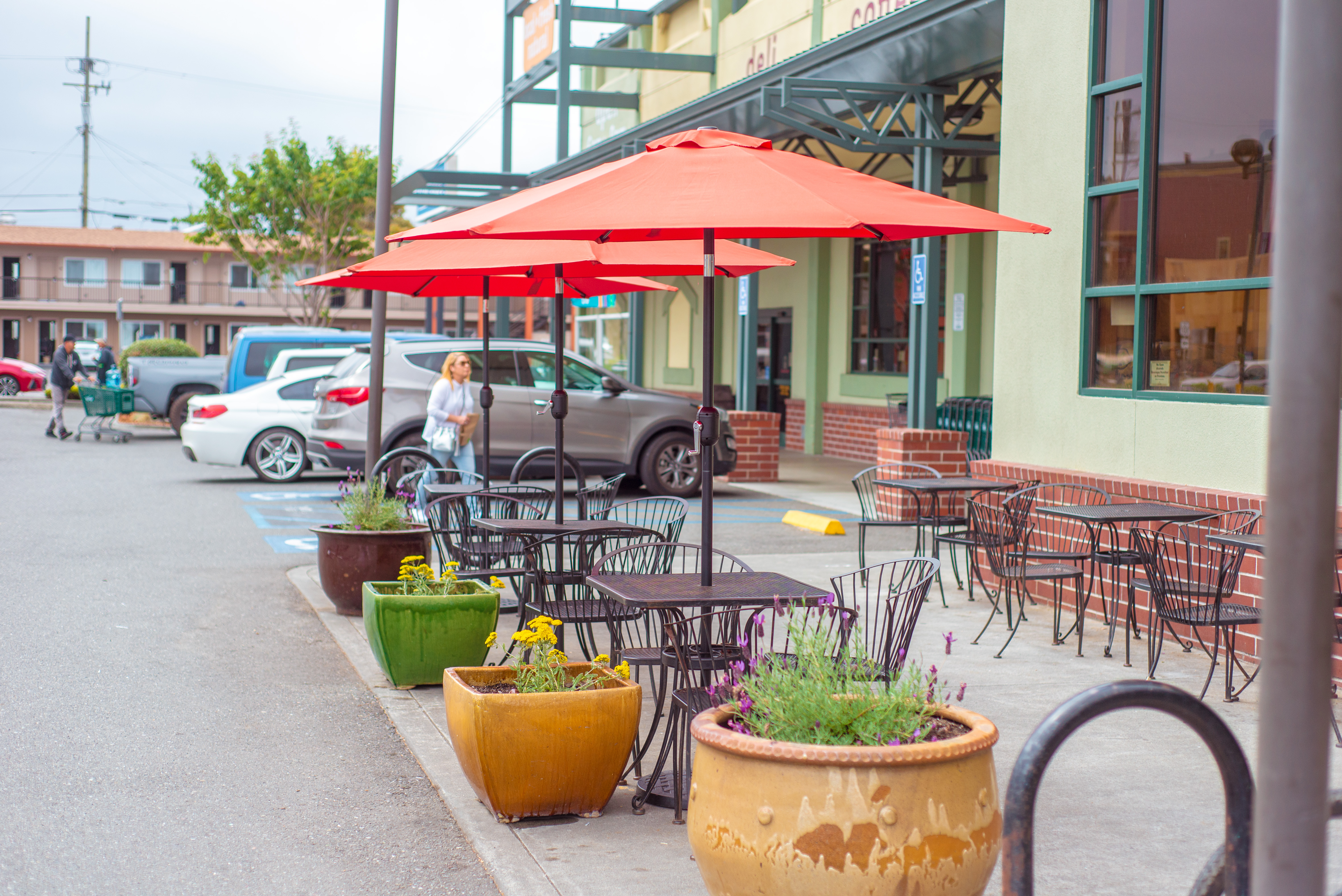 When I tell people about the exciting things happening at our Eureka store, the main question I get is: when will this happen in Arcata? As soon as we can get some of the projects finalized in Eureka, we will be turning our sights to Arcata. The food bar seems to be the most requested, but also the most expensive. Not only would we need to purchase the equipment and pay for installation, but we would need to buy a specialized oven and make upgrades to the Arcata Deli to allow for the production required to create that much food. We could easily need to spend $350,000. So, initially, we have brought over the new signature sandwiches and will spend a few months planning for changes to Arcata. Realistically, it will be 2020 before we can implement them.
The hold-up is simply cash. While we weathered a dismal tourist season last year (fires to the north east and south) and an economic downturn (cannabis legalization), it left us in a poor cash position. We have been working diligently to grow our cash for rainy-day funds and capital expenses, and are making headway, but we need more investments from members to be able to make significant changes in Arcata. In addition to a food bar, we desperately need to repave the parking lot. Along with that would come alterations to make the store more accessible by bike and foot. The City of Arcata is working on a new bus route that could potentially put a stop in front of our store. That, along with the Zagster bike share rack, means more people walking through our already tight parking lot. We need to be proactive about safety, as well as improving access to multi-modal transportation.
In order to build back our cash thus far, we have improved our sales and controlled our expenses. Deli sales in Eureka have seen double-digit growth! One of our major expenses is labor, and we have maintained reduced schedules (30 minutes per day) for staff in most departments. In addition, we continue to find opportunities to restructure our staffing and/or not fill vacant positions, specifically in management. We had hoped to be able to return to full schedules by now, but sales are still down slightly from prior year and we are uncertain how this summer will compare to last. We must be cautious.
Fire season has a major impact on our sales. If the fires are inland, mostly forest, and the highways are open, we see an influx of tourists escaping poor air quality and scorching temperatures. If the fires burn cities and highways close, tourists cannot get to us and those directly impacted no longer have the means to make their routine trips to the coast. For everyone's sake, I hope we get a break from devastating fires this year.
Another factor we believe has negatively impacted our sales, especially in Eureka, is safety. In order to return to profitability, we cut security personnel to nothing at both stores in the fall—it costs us no less than $6,000 per month. It did not take long for word to spread. Before we knew it, people were sleeping in our alcoves, setting up camp on the sidewalk along 4th Street in Eureka and brazenly walking out the door with unpaid product. Our employees and shoppers were fearful, and safety became a real issue as more and more confrontational situations occurred. When people don't feel safe coming to our stores, they simply don't shop with us, which has a negative impact on sales and makes it nearly impossible to recover financially. In June we brought back security personnel, with coverage seven days per week.
In addition to reintroducing security, we have developed our relationship with the Eureka Police Department. They now have a full-time Old Town Officer, Officer Ross, who begins each shift walking through Old Town to help make sure entryways are clean and clear for businesses. He can be found on foot, bike, or in a patrol car. Officer Ross is a member of the Eureka Police Department's Community Safety and Enhancement/Engagement Team (CSET). Their mission is to proactively address quality of life, crime and disorder problems in Old Town, along the waterfront, and in city parks while developing strategies to ultimately improve upon or eliminate these issues.
We are also taking advantage of Eureka's amended municipal code for property offenses, adopted by the Eureka City Council in December of last year, which now prohibits trespass on private property. This allows businesses to file a report with the Eureka Police Department indicating that a particular individual is no longer welcome on their property. If the individual re-enters the property, EPD is notified and the person is arrested if they do not leave when asked.
We are thankful that the Eureka Police Department is taking a compassionate approach to dealing with a population fraught with adverse childhood experiences, mental health issues and drug addiction. Officers are trained to engage individuals in enrolling in social services—but they are serious about accountability when it comes to following the law and keeping the peace.
With all there is to consider in running a business, especially one on the outskirts of Old Town Eureka, it is hard to stay focused on why we are in this business in the first place. I recently saw The Biggest Little Farm at the Minor Theater in Arcata. It was a great reminder of the impact of food production on our planet. If you get a chance, check it out. The premise is that monocropping (the agricultural practice of growing a single crop year after year on the same land) is bad for the planet and not sustainable. While many of us already know this, the film features a couple who took a barren swath of land north of Los Angeles and converted it to a lush, productive farm by first building the soil and then planting diverse crops. They used integrated pest management by introducing natural predators for each of the pests they encountered until they ultimately achieved balance within the farm ecosystem. We have farmers locally who have been balancing the ecosystem on their farms for years or decades. It used to be called organic farming.
As the demand for organic has become mainstream, the intent of organic has become somewhat diluted. For those who originally developed the organic methods and USDA certification, it meant integrated pest management and diversity of crops. It is now less about that and more about not using certain chemicals. Many of the organic brands we have come to rely on are monocrops that take up thousands of acres on prime agricultural lands. Many require intensive fertilization and amendments that allow them to grow crops where naturally they would not, and the USDA mandates that animals cannot be in or near the crops. This means eliminating frogs and other natural pest predators. In essence, many large organic farms are not allowed to find balance in the ecosystem.
In the face of these unintended consequences of the organic movement, I ask myself how our co-op can have a positive impact on the food system. After all, the reason we do what we do is because we care about where our food comes from and how it is grown. I think it is time to look beyond the organic label and really question industrial farming methods. "Regenerative agriculture" is the term used to describe a holistic approach that aims to sequester carbon in the soil. Not only does this mean more nutrients for plants, it also means a reduction in greenhouse gases. Win-win! As mentioned earlier, we have several farmers locally who already do this, and the Co-op goes out of its way to support this farming method. In fact, this year we have increased our request for local, organic produce so that we have enough for our new Deli offerings.
And so, we've come full circle. The exciting things happening at the Co-op are inextricably tied to the land. If we don't provide a safe shopping environment, our sales go down and so does the amount of produce we need to purchase from local farmers. If we don't have investments from members, we don't have the capital to improve the shopping experience and sales go down and so does the amount of produce we need to purchase from local farmers. For us, it's not just about making money for profit. We are making money to support our local ecosystem—environmental and economic. As you speak to your friends and neighbors, please spread the word about what the Co-op is doing and why. We hope to see shoppers returning and members investing, whether it's because we've improved safety or because we have awesome new Deli offerings or because they simply want to support our local ecosystems. Thank you for your continued patronage and loyalty!