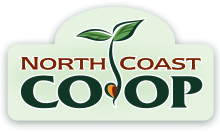 I am honored and thrilled to be joining the North Coast Co-op team as General Manager. I have been working in food co-ops for nearly 10 years and have enjoyed getting to know every aspect of how a co-op is run. I have worked in many different roles within food co-ops, from cashier to grocery clerk to buyer, and most recently as a sales manager at Central Co-op in Seattle, Washington.

I love food co-ops. I love the concept that an otherwise unremarkable business model — a grocery store — can be re-envisioned as template for how any business can operate with considerations beyond profitability. A food co-op is more than just a place to buy groceries; co-ops build community, bolster local economies, and promote sustainable food systems. I like to imagine that by modeling a grocery store in this way, we are saying to other businesses: "if we can do it, so can you!"

For me, co-ops are also about the love of food. Food has an amazing ability to bring people together and serve as a catalyst for social connections. The idea of paring food with community is at the core of the human experience, and co-ops provide a crucial outlet for this type of interaction with food. Personally, I have always enjoyed cooking (and eating!) and sharing food with friends and family, and shopping at the co-op has always been an important part of that.

I haven't been at North Coast Co-op for very long, but I have so far been extremely impressed with what a fantastic co-op this is, and what an important role it plays in this amazing community. A friend of mine, who has lived his whole life in Humboldt, refers to North Coast Co-op simply as "Co-op" (as in, "I'm going to Co-op"), like he is speaking of a dear old friend. I always found this hilarious and charming, but I get it now. That is what this Co-op is for Humboldt — a dear old friend — and I'm just excited to be a part of it. ■