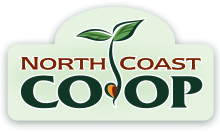 Did you know that transportation accounts for more than half of Humboldt County's climate-harming greenhouse gas emissions? And that for some groceries, the biggest component of their emissions from farm to plate come when you drive them home from the store? For an organization like the North Coast Co-op that's committed to environmental sustainability, addressing the impacts of transportation to and from its stores is absolutely critical. That's why we're pleased to announce a new strategic partnership between the Co-op and the Coalition for Responsible Transportation Priorities (CRTP).
CRTP is a local nonprofit organization whose mission is to promote transportation solutions that protect and support a healthy environment, healthy people, healthy communities and a healthy economy on the North Coast. That means creating policies and infrastructure that encourage more low-carbon, community-friendly transportation like walking, biking, and riding the bus, and less solo driving.
When it comes to the Co-op, CRTP will be working with the management team and members to promote the new Alternative Transportation Stamp Card, and to develop new ideas for encouraging customers and employees to walk, bike or take the bus to the store. In keeping with the cooperative principle of Concern for Community, the Co-op will also support CRTP's work on broader local transportation issues by encouraging interested members to get involved and support CRTP's education and advocacy efforts. We're looking forward to a great working relationship!

Colin Fiske (he/him)
Executive Director
Coalition for Responsible Transportation Priorities