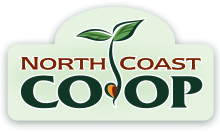 North Coast Co-op closed Fiscal Quarter 2 (FY20) on September 28, 2019. Combined sales in the first quarter for the Arcata and Eureka stores were $8,339,645, compared to $8,529,789 in Q2 FY19.
Year to year: Second quarter FY20 sales were down <$190,014>, a 2.2% decrease, compared to the first quarter of Fiscal Year 2019 (FY19) and Cost of Goods Sold were slightly less (62.7% compared to 63.6%), with a slightly higher gross margin ($3,114,761 vs $3,102,568). All of Total Payroll ($2,203,888 vs $2,417,097), General & Admin Expenses ($504,356 vs $622,255) and Occupancy Expenses ($433,981 vs $444,073) were lower in the first quarter FY20 compared to FY19, ($3,142,255 vs $3,483,424) due to the ongoing personnel reductions/attrition, moving out of the Ten Pin Building, and overall cost-cutting. The result was a smaller Net Income Loss of <$9,222> for the first quarter of FY20, versus a Net Income Loss of <$392,914> for Q1 FY19. The Co-op's Total Assets were less at the end of fourth quarter FY20 compared to FY19 by <$452,096>, primarily due to lower Cash on Hand <$225,868>, and lower Inventory by <$106,318>. Current Owner Shares decreased by <$372,858> compared to first quarter FY19, primarily due to moving C Share Purchase Requests from Member Equity to Current Liabilities (per the yearly audit).
Quarter to quarter: Second quarter FY20 sales decreased from First quarter FY20 by <$160,063>, a 1.9% decrease. Cost of goods for Q2 was higher than Q1 (62.7% vs 62.3%) resulting in a lower gross margin by <$94,197>. With slightly lower Payroll and Payroll Taxes <$40,906> and Benefits costs up by +$15,480, the Co-op showed a net income loss of <$9,222> and when added to the Q1 profit of $64,873, the Net Income for FY20 Year-to-Date is +$55,561. As previously stated, the Co-op recently raised the Dividend Rate from 2.00% to 2.65% and we will hopefully see more members increase their investment in the Co-op. Please call our Membership Coordinator at 707-443-6027 ext. 434 if you are interested in becoming more invested in the Co-op.